Red Tent Event! Hear Birth Stories & Tell Your Own. Sacred Gathering of Mothers & Mothers-to-be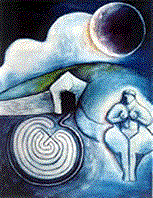 Red Tent
Hear Birth Stories & Tell Your Own
A sacred gathering of Mothers & Mothers-to-Be
Facilitated by Silvie Falschlunger and Melissa Divaris Thompson
Please join us in the listening & sharing of your birth journey
at Silvie's House. We will 'walk our labyrinths' & explore:
* What was surprising, unexpected, (dis)empowering about your birth experience?  
* What obstacles did you run into & what fears did you face?
* What was crucial support along the way?
* How is/was your journey back into 'everyday life' after your birth?
* What insights are you bringing back to the community?
 We are looking forward to meeting in a circle of women holding each other's stories.
All birthing women & their pre-crawling babies are welcome.
Friday, November 21, 2014 from 7pm to 9pm
Silvie's House in White Plains, NY
Suggested Donation $20
space is limited, to RSVP call or email Silvie
914-522-6980 or scfalschlunger@optonline.net