Rivertown Mamas ~ new mom Stephanie Hinkaty Interview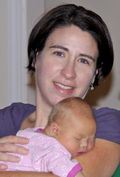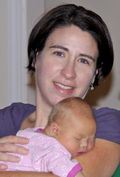 When I was newly pregnant, everyone started telling me about this new place that had opened in Dobbs Ferry called Rivertown Mamas. The name alone made me curious, and because I knew early on I needed community, I looked it up. Rivertown Mamas is the mecca of mama-hood. Classes in infant massage, breast feeding, yoga, and music, to name a few, are held regularly. It's not JUST that the classes are good, for me it's about the woman that created her vision into a reality, Stephanie Hinkaty.
I met Stephanie when I showed up at her new mom's group. We connected instantly and it turned out we had a similar birth experience. She is kind, compassionate, and warm. She welcomes new moms in whatever state they are in with care and relatedness. It was through Stephanie and Rivertown Mamas that I met a community of amazing mothers. I cannot thank her enough for what she does, seeming we all know it takes a village to raise a child and we all need community!
My new mom's support group with Brooke Nalle will be held at Rivertown Mamas in March!
To learn more about Rivertown Mamas, go to www.rivertownmamas.com
1. How did you come up with the idea to open Rivertown Mamas?
I came up with the idea about three years ago. I was working with breastfeeding moms as a Certified Lactation Counselor, and one of the things I noticed in many new moms was that they felt isolated and lonely. I had similar feelings when my first daughter was born, and was lucky enough to find a group of new moms that met each week at a neighborhood cafe in Brooklyn. I looked around for groups in Westchester to refer my clients to but couldn't find any, so I started hosting meetings in my living room. Around that time I was also looking for mommy and me-type classes to take with my youngest daughter but couldn't find the types I'd loved so much in Brooklyn, so I decided to rent a space where I could hold the new moms' meetings and offer classes.
2. What brings you the most joy in running and operating Rivertown Mamas?
I am incredibly proud of the community that has grown out of the groups and classes I offer. It makes me so happy to hear that two moms who met in my new moms' group went out to lunch or are swapping babysitting or went for a walk together. I've gotten some amazing thank you notes that I will always treasure.
3. What do you see as a challenge for new moms in the early days of having a baby?
Beyond the loneliness and isolation, I think a major challenge for nearly every new mom is coping with worry. Every decision seems immensely important — disposable or cloth diapers? Crib or co-sleeper? What bottle system is best? Which stroller? It's exhausting making so many major financial, personal, and lifestyle decisions during a time of sleep deprivation and hormonal fluctuation.
4. What have you seen to be helpful for new moms?
Having even just one friend who's in the same stage of life or recently was makes all the difference. Having a community of new moms is a major bonus!
5. I know you are a lactation counselor as well. Can you tell us a little bit more about your background and how you help moms?
I completed the requirements to become a Certified Lactation Counselor in 2011. Before that I was a writer and editor, but I was ready for a change and considered going back to school to become a midwife. A friend of mine is a labor doula, and she suggested that I look into the lactation training as a way of seeing if I enjoyed the work before embarking on several years of schooling, and I absolutely love it. I've found that most of the moms I work with primarily need help with two aspects of breastfeeding — getting a good latch and increasing supply. I generally observe the mom nursing and offer suggestions, and ask questions about what she's doing now and about what's working and what isn't, and then we come up with a plan together that meets her breastfeeding goals. I'm a huge believer in trusting yourself and your intuition, and I think one of the most important things I do for my clients is to instill confidence in themselves and in their body's ability to nourish their baby.
6. What do you like to do for fun?
I'm busy running my business and raising three daughters, so free time is pretty limited these days. I'm an avid reader, and will spend any spare second I have reading a book. I also love listening to NPR and TED talks — they're both great ways of learning new things while I'm cooking dinner!